Toronto Drunk Driving and Distracted Driving: Trends and Consequences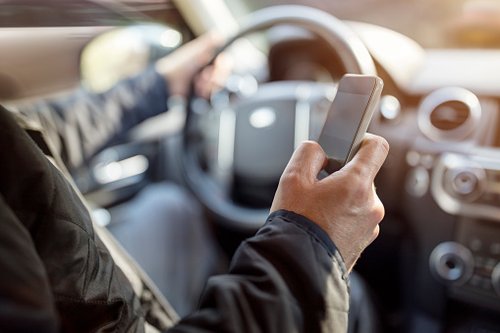 Impaired driving is a criminal offense in Canada, and involves the use of a motor vehicle while under the influence of alcohol or drugs. Other categories of offenses (often hybrids that can be both summary or criminal convictions) include careless driving, dangerous driving, and the increasingly common distracted driving.
The Ontario Provincial Police says that deaths related to distractions are rising, and collisions that resulted from inattentive drivers have tripled in recent years. That's why they're taking a zero-tolerance policy toward distracted driving just as they have historically for impaired driving.
What Are The Current Trends?
The Ontario Provincial Police said that deaths related to distracted driving are surpassing the amount of deaths related to excessive speeds. They made more than 2,400 distraction-related charges during their distracted driving campaign from March 13-19, which is why Ontario and the City of Toronto are cracking down on distracted driving just as previous campaigns targeted driving drunk in Toronto.
Meanwhile, over the last two decades impaired driving has actually seen a decline due to increased awareness. But it is still far too common: about 4 deaths are registered each day in Canada due to driving under the influence of alcohol and/or drugs. Toronto drunk driving rates are more favourable than in rural areas but there are still about 90 impaired driving related incidents per 100,000 population reported by police each year.
What are the legal consequences of a drunk driving charge?
If you get charged with drunk driving Toronto, you could pay a fine of up to $1000. You could also have your license suspended for at least 90 days. You will have to pay a considerable amount of money in court costs and a reinstatement fee. It will also be recorded as a criminal offense, which could result in the following:
• Bad credit
• High insurance rates
• Difficulties in finding employment
• Travel bans to certain countries
DUI charges will stay on your driving record for at least ten years, and a criminal report will remain on your record for at least five years. You can fight the charges if you feel like you have been treated unfairly, and it's recommended that you find a Toronto DUI lawyer to help you with your case.
Where distracted driving is upgraded by the Crown to a criminal dangerous driving charge all of the same concerns apply—find a qualified lawyer to represent you on your case.
Why do you need a Toronto DUI lawyer to handle your case?
There have been a number of cases related to drunk driving Toronto has resulted in an acquittal. There have been some questions about the reliability of certain breathalyzer tests and there have been many situations where the machines weren't properly calibrated. Skilful lawyers will look for violations of the Charter Rights, such as inappropriate delays, withholding the right to counsel or failing to inform defendants of their rights.
Breathalyzers need to be calibrated every 28 days, but there have been many cases where it wasn't happening. Instead of using them for screening purposes, the police could be using them to punish people.
Hiring a professional with the necessary experience can be helpful toward the handling of your case, because he or she will make sure your situation is being handled in a manner that would be the most appropriate. A drinking and driving lawyer Toronto will make sure that every relevant factor is taken into consideration, because every case is different.
Toronto DUI Lawyers has a team of experts who can help you with your specific situation, because we understand the different aspects related to drunk driving cases in the city. If you want to find a drinking and driving lawyer Toronto who can get the job done, get in touch with us today!